Overview
Locate a serial port on the main board

Convert the serial port signals from 3.3 Vcc to 5 Vcc to enable communication with a standard PC

Create a small test circuit with the parts required to convert the signals from 3.3Vcc to 5 Vcc
Locate serial port on main board
The WRT150N has a serial port located on the front of the circuit next to the security button. When the router is open and seen from top front the pins are located as follows (left to right)
Ground
Not used
Rx
Tx
Vcc 3.3v
The connecter mounted to the main board are shown below. The other wires on the board should be ignored they are from a previous SD mod.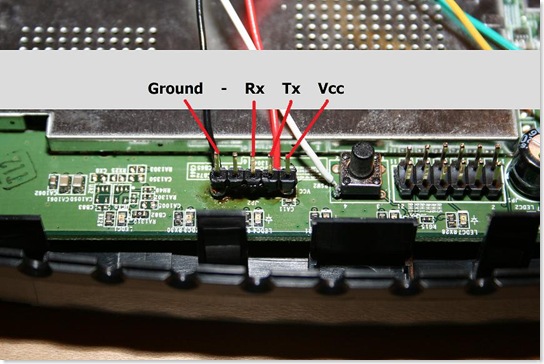 Serial port pins added to WRT150N v1 circuit.
Converting the serial port on the main board to a PC compatible serial port
To use the serial port with an ordinary PC the voltage has to be raised to 5 Vcc which the RS232 operate on. This can be done by using a MAXIM 3232CPE IC which has support of converting two serial ports from 3.3 Vcc to 5 Vcc.
Description from www.elfa.se/dk/
3,0 till 5,5 V RS232-sändare/mottagare Fabr Maxim Transceiver för +3,3 och +5 V-system. Behöver endast 4 st 0,1 μF kondensatorer. Pinkompatibel med MAX 232
MAX3232CPE
Creating a small test circuit with the MAXIM 3232 IC
Here a small print has been fitted with the required components, the MAXIM 3232 IC and the corresponding compensators. The IC is powered by the Gound and 3.3Vcc from the connector described above.
The serial port DB9 and connector from the main board is attached as shown:
PIN 11: T1IN to main board Tx
PIN 12: R1OUT to main board Rx
PIN 14: T1OUT to Rx on serial port connector
PIN 13: R1IN to Tx serial port connector
The rest of the PIN connection can be seen in the data sheet for the MAX3232CPE.
You can now use the serial port with your PC. If you don't have a serial port on your laptop etc you can use a serial port to USB cable.
The serial port is used by the kernel to send debug information under startup and continues send log messages. The port setting is 115200 8N1.
References