This will explain how to buy a new (or used) key fob and program the remote to the car.
It is worth mentioning that programming the immobilizer is not really a thing you can do you self unless you have all the required codes which you properly don't have do to the way VW manages these now a days.
Before you go on to ebay or else where to find a new key there is a few tings that you need to know. Two numbers must match the key you are searching for, that being:
Remote part number.
This number indicated what frequency the key uses e.g:

HLO 1K0 959 753 A – 434MHz for mobel PR-5D1
HLO 1K0 959 753 B – 315MHz for model "J..": PR-5D3
HLO 1K0 959 753 C – 315MHz for model "ROK": 5D5
HLO 1K0 959 753 D – 315MHz
HLO 1K0 959 753 G – 434MHz

The type of immobilizer
This is a number similar to: 5FA 009 263-10
The part numbers can be found on the back of the remote part when dissembled from its metal key part.
If only you remote is broken and the car still is able to start. Then the old immobilizer can just be assembled with a new remote part. (Saving you for the expensive programming at a VW dealer)
More info about keys can be found in this
post
.
Programming
This is only a guide to program the remote control part of the key e.g the part with the 3 buttons (on the right below) – NOT the immobilizer with the metal key (on the left).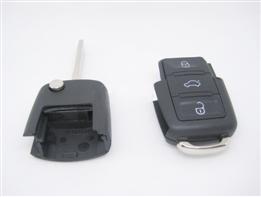 VW Generic Programming of Remote Controls
Place your first key into the ignition and turn to the second notch (do not start the car)
Now close the door and place your second key into the handle lock
Turn the key to the lock position and let it spring back to the central position.
Hold down the Lock button on your new remote, you may hear a bleep from the car
Now unlock the car using the key in the barrel and remove, then take your first key out of the ignition
Close the door
Your remote should now be coded
VCDS Procedure for matching radio-frequency remote controls
The VCDS matching guide is available here.
However this guide didnt quite work for me. I just wanted to add a single new (already used for another car, which type is not known to me other than it was a VW) key to the car but the procedure shown below didn't allow me to save a 2 in the new value. If I pressed Test it will then just come back and allow me to Test again and not Save. So I had to save 0 in channel 0 to reset it. This deleted all FOBs associated with the car and enabled me to start over and save 2 as the new value indicating two new keys. VCDS
Place the key to program in the ignition and turn it (do not start the engine)
[46 – Cent. Conv.]

[Adaption – 10]

Read channel 1
Change the Test Value to 1 (The guide says it should be the number of keys but any value except one doesn't work for me)
Hold in UNLOCK on the key until confirmation (in my case by the turn lights)
That's it exit VCDS and turn of the car the remote should work now as well as your old one(s)