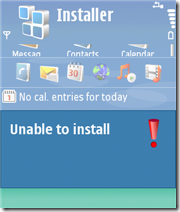 When trying to install a program on your mobile the program can be limited to a specific time period. If you try to install the program after this period you will get the error "certificate expired". In some cases there is a workaround to solve this problem so you can get your old program installed again.
Set back the time in your mobile a year or two.
Install the program.
Set the time back to the actual time.
Additionally info about install errors with certificates can be found here