The FLEXlm service does not work on windows vista: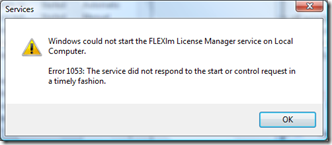 But there is a workaround. Follow the steps below:
I had selected compatibility mode "windows xp sp2" for all the apps used below and used administrator rights for all the apps and the console as well.
Download the files listed for your windows version xp. link
Unzip them in a folder "c:\flexlm\"
Place your license file in this folder with the name "license.dat"
Run "i86_n3_lmgrd -c license.upd -l log -z"

z is only used to show you what the app does. incoming / outgoing connections

Now you computer is running with the license server located on: "localhost:27000"
Use Rational License Key Administrator
Now you can connect to this license server and run Rational Rose as normal.