To change/add/delete words form a Symbian phone you need to get access to the file system. This can be done with the use of FExplorer (other file browsers). You need to manually sign the application to install it, this can be done online http://www.symbiansigned.com/ where you enter your phones IMEI number and upload the file. Then they will sign it and you will get a download link.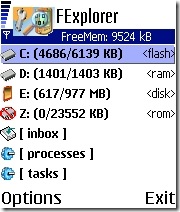 More info about the file system e.g. where the different settings on the phone are stored. Link
Wordbook location
The wordbook is located in
C:\system\data\PTIT9UDB0F.DAT
or
c:\predic\101F8615_F.dat
Changing data in the file
To change the data in the file you need to use FExplorer to copy the file to c:\data\Documents and then fetch it from your pc. Then the file can be renamed from .dat to .txt an you can change in the file. To add or delete you need to change the length of the word which is stores like this on a Nokia E51:
00 08 00 6C 00 61 00 75 00 73 00 64 00 61 00 68 = length=8 and word=lausdahl separator between values=00
Additional to this a checksum needs to be changes somewhere in the file. Currently unknown to me. For this a hex editor is needed.